What is acrylic pouring?
Acrylic pouring or fluid art is currently the most popular form of abstract art.
Its biggest appeal is you don't need an art degree or even Any art experience!!
Acrylic pouring is an experience where you continue to learn and experiment each time you do it. Trying the many different mediums and additives available and then looking at the multitude of different canvases you can add your own flair to. Sometimes you create a masterpiece but quite honestly your not too sure why that piece came out better than previous attempts.
Currently in the UK there are not many places to go to learn the basics of Acrylic pouring. Just online videos and experimenting, the initial stage costs me small fortune until I figured out my own pouring formula that I can adjust depending on my canvas.
This in turn means there is a desire for little old me to share my experiences and knowledge I have learn't to give you a head start on your acrylic pouring journey.
---
Introduction Workshop content
To introduce the most popular pouring mediums on the market that can be used.
I shall share my own recipe which is more affordable (key when getting though a lot of it) but also archival (if you create a masterpiece it will last forever).
Tips for natural cell production and looking at additives to get cells every time.
Types of paints that can be used.
Paint consistency, this makes or breaks a painting so I shall work with you to feel comfortable with the consistency of your paints ready for pouring.
A look at a handful of canvases I use to give you ideas and the opportunity to question me while your creative juices are flowing.
During the workshop you will create 2 of your own small pieces (10cm x 10cm) and I will supply suitable boxes to carefully carry your wet work home in.
I shall also cover any canvas preparation and finishes I use that work best for me.
Included are all materials required on the day , gloves, disposable carry boxes and a handout covering key information. Please wear old clothes.
Please note …. This is very much a introduction to the art form of acrylic pouring, you will not leave feeling like an expert and in fact will probably have more questions than prior to doing the workshop.
However the aim is for you to leave excited and with enough knowledge to be able to go away and start creating some beautiful art.
---
Advanced techniques workshop content
You must of attended the introduction workshop first.
Have fun experimenting with pouring techniques We shall look at 3 different acrylic pouring techniques during this workshop and you will each create 3 pieces of art to take home. Each piece on a 25 x 20 cm canvas.
Ring pour
This is a technique that's all in the wrist. No silicone is used and its the beauty of the natural poured rings not cells we are looking for.
Floating cup pour
This technique will introduce the use of negative space and bright cells while floating your cup on top of the base layer. With this technique I will also be able to show how to stretch cells to make them larger.
Swipe
The swipe technique can be a little hit and miss, in honesty I still get the odd one that doesn't develop how I intended. However this is certainly a key acrylic pouring skill that has to be explored as the results are mesmerising. Probably my favourite in terms of finished result.
I shall also cover any canvas preparation and finishes I use that work best for me. This is just an opportunity to ask further questions on these further to the first workshop. Trouble shooting – Common issues and ways to solve them.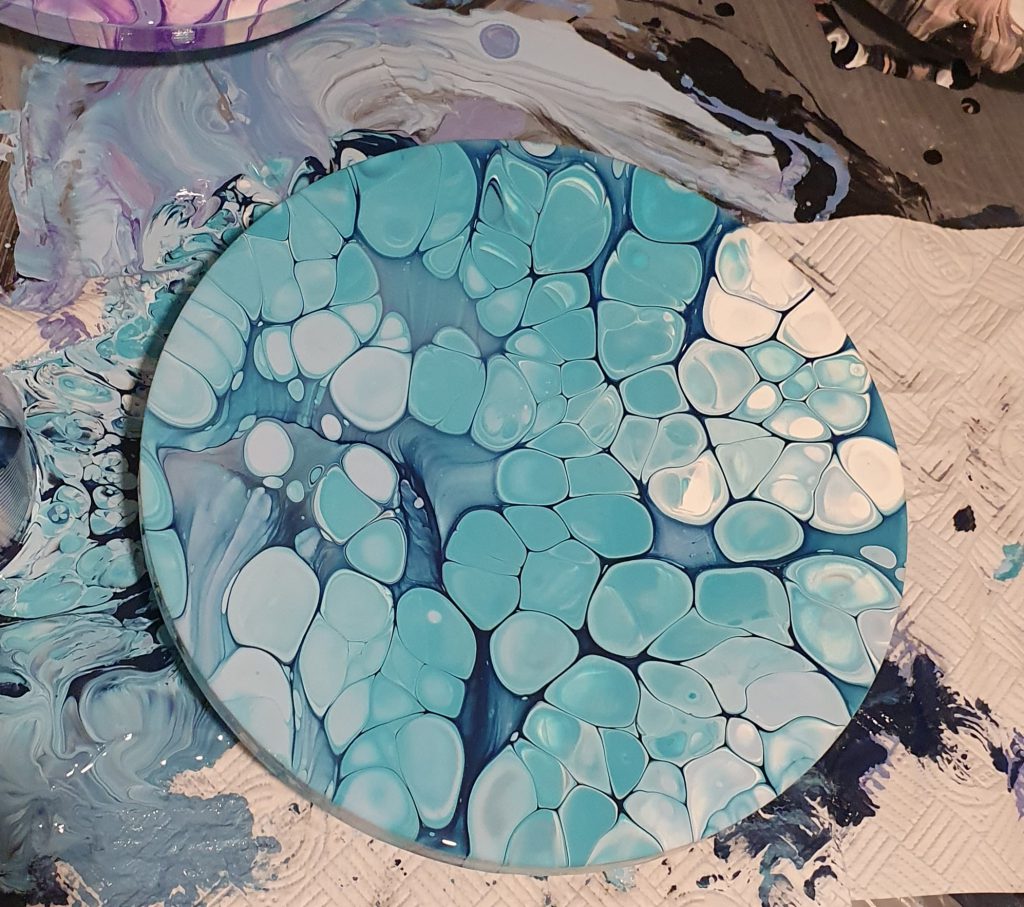 Private class
I offer the option of having a private class. This can be 1-1 session where I tailor the class to your individual needs. Or I can run a group workshop. I have done these for adult groups, children's parties and home schooling groups or those wanting 1-1 lessons.
I do not own my own suitable premises so this would be at your home or a agreed hired location.
I can run these on acrylic pouring, Resin art , Jesmonite or mould making. I'm multiskilled in all fluid art forms and have an addictive passion for these
Prices start from £50 plus travel
Please message me to enquire
---
New…….. Introduction to Jesmonite
JESMONITE AC100 is a water based, two-component, acrylic polymer/mineral resin system.
During this workshop I shall explain and show how to use this amazing solvent and voc free water based resin.
As an eco–friendly safe alternative to resin, plaster or concrete its perfect for creating your own bespoke home ware.
Everyone will make a set of 2 coasters and a small pot. I shall also share my tips for making larger pieces and demonstrate this.
Please bare in mind you will be taking home these pieces with you and until fully cured at 24 hours they are a little delicate. Please bring something suitable for however you will be travelling home.
Suitable as a one off fun session or and introduction to a new hobby.
No art or craft experience needed.
All materials needed are included in the price.
---